Illustration by Maja Stenstam
Do you think cleaning your barbecue grill from oil residues is hard?
You are right.
And you know what? Studying how it actually works is hard too.
But it can be done, both cleaning and understanding it.
In a series of projects, we have worked to understand the details of cleansing and degreasing of surfaces, often fouled by oil.
In one particular project together with Fater, we developed a methodology to study cleaning and cleaning performance of surfaces with hard-burn oil, mimicking the process that occurs for example during a session with the barbeque. Such oil is difficult to remove and special formulations are needed for cleaning. The oil in this environment undergoes thermal polymerization, and possibly thermal oxidation of unsaturated chains, which leads to the formation of different types of cross-linked oligomers and a dramatically increased viscosity.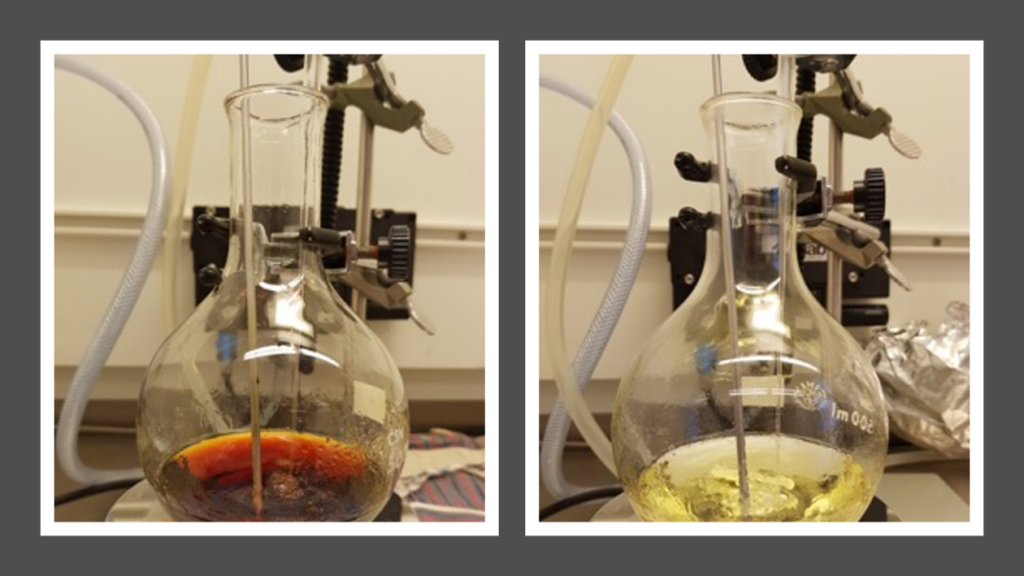 Cooking oils to get a sample to coat the stainless steel QCM-D surfaces with, in order to have a good model for the post-barbercue cleaning procedure.
QCM-D for in-situ, real time study of cleaning
We selected the technique QCM-D because it allowed us to study the cleaning process in-situ and in real-time with an appropriate model surface (a polymerized oil film on stainless steel). Contact angle was also used as a qualitative method for making a quick assessment of cleanliness.
We studied the cleaning performance of market leaders, full formulations in development and single key ingredients in solution. While the former was valuable benchmarking, the latter contributed to how oil is de-facto removed, which turned out to be different for different formulations.
QCM-D result capturing both the change in frequency (translating into change of mass) and change in dissipation (translating into change of viscoelasticity). The image thus shows both the level of swelling and oil removal from the surface.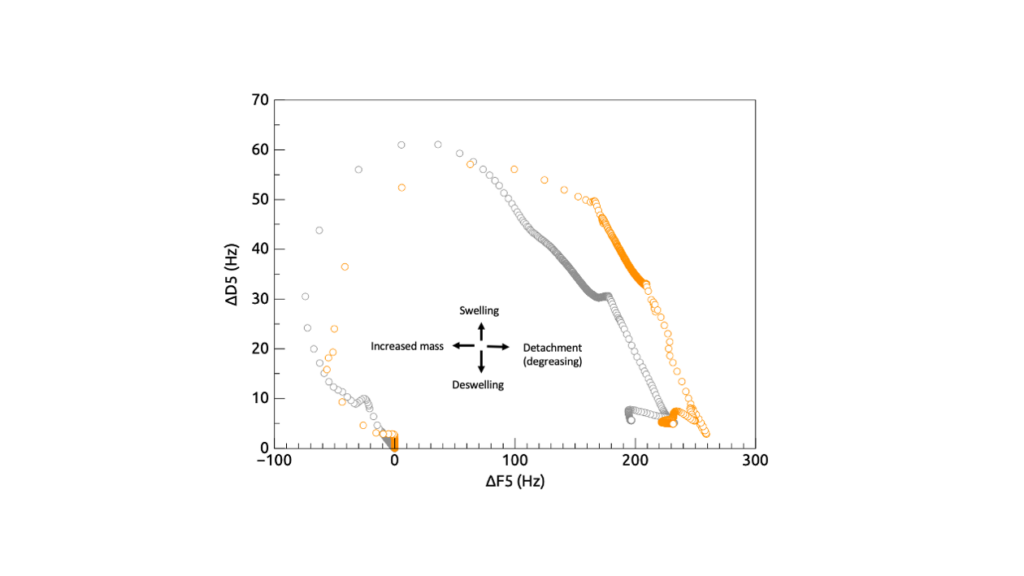 The mechanism of oil cleaning is a complex process that involves both chemical and physical interactions. In general terms, the goal is to break down the oil into smaller, more soluble components that can be easily removed. The break-down is either chemical (harsh pH) or biological (using enzymes). The removal is the part where surfactants play an important role. We gained knowledge of how the cleansing mechanism occur (swelling and releasing mechanism), how and at what stage the different surfactants acted onto the polymerized oil. It was also clear to us that the mechanism differs between surfactant type and with different degree of oil polymerization i.e., with different levels of tough.
The team at Fater is knowledgeable in surfactant chemistry and was aware of the different performances. With data on a molecular level, provided through QCM-D, the understanding deepened. With a better idea of the mechanisms at play, the RnD team can introduce new tailored formulations for specific purposes.
Being a colloidal chemist helps in the kitchen, both when creating and when cleaning up!
Experts working with this were
We believe this could be of interest to you too